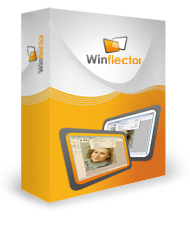 Buy now

Buy on-line

Buy Winflector Windows application server. It allows remote execution of your Windows applications from anywhere around the world.

check out our offer
Winflector
We offer one of the best virtualization software available on the market – Winflector. It allows easy, fast and effective applications sharing over a network, without excessive consumption of computing and network resources. One central application server, on which the programs are executed, gives easy remote access to selected apps through lightweight client available for Linux and Windows. If you are looking for an alternative for Remote Desktop Services (Windows Terminal Services), Citrix XenApp, VNC etc. – Winflector, one of the best low-cost and efficient virtualization software, is for you.
News
2016.02.18
Due to changes in exchange rates we reduced prices of our products. The current base price for one Winflector server user is 55 EUR or 60 USD.
2015.10.06
Version 3.8 facilitates centralized Winflector installation management. It allows to set application session parameters on the server.
Simple reasons
to choose Winflector: